Efficiency thanks to tailored solutions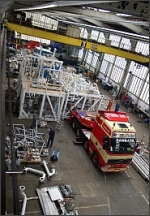 VPT Kompressoren GmbH has been supplying air and gas com-
pressors to industrial companies and craftsman´s establishments on the basis of this principle for more than 25 years.

VPT is at the customer´s service with a manufacturing plant in Remscheid / Germany and a sales office in Dinslaken / Germany.

The concept of application-specific plant optimization benefits both the customer and the environ-
ment.The customer receives a product which has been finely tuned to the purpose for which it is to be used and complies with plant standards and local regulations.

VPT offers packaged solutions encompassing design and production, installation, commissioning, training & service.

The ongoing quest for product improvement, close contact with the customer, and the construction of units which meet the highest quality demands will ensure that VPT compressor systems continue to offer a high level of operating safety and efficiency in the future too.

A quality assurance system complying with the requirements of DIN ISO 9001-2000 guarantees a cost - effective product and short delivery times.